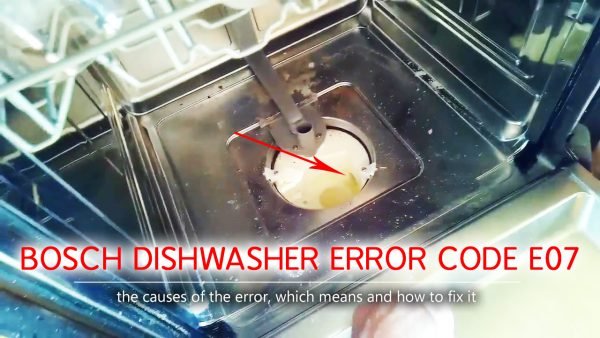 What does the E07 in the Bosch dishwasher mean? A hole that is designed to pump water from the hopper is closed or the filter is clogged. This error is easily eliminated after a close inspection and subsequent cleaning the bunker. To clean the filter, it is necessary to release the machine from water, as well as from the dishes. Also, depending on where the filter is located, you may need to pull both pallets out to get to it. In addition, you have to unscrew the filter, clean it from food debris that has clogged the part. Then, rinse it under a strong stream of water.
There is a recommendation on how to avoid frequent stops of washing programs caused by drain holes or filter clogging. Before putting the dishes into the dishwasher, rinse the plates with running water. Using this method along with special detergents, you will forget about dishwasher cleaning.
How to clean a dishwasher drain hole Bosch
In some Bosch dishwasher models, the E07 code error may occur due to an improper stacking of dishes. Place the dishes correctly and the error E07 will disappear.