What to do if the Bosch dishwasher shows the E04 error code on a display? This error indicates a water flow sensor failure. For example, there is a clog.
What does the error code mean?
A dishwasher can show the E04 error when the flow sensor breaks down, and if the injectors fail. Due to clogging or high level of water hardness, jets do not pass well through the holes in the sprinkler, which leads to breaking of the appliance.
Water enters with difficulties, but this position is uncritical, and you can try to eliminate the breakdown by yourself.
How to fix the problem
First, you have to check whether the malfunction is actually occurring, or it is just a failure in the system.
Try to reset the E04 code:
disconnect the Bosch dishwasher from the mains;
wait for 10-15 minutes;
re-start the appliance.
If the icons have disappeared, it means that everything is alright. But if the device displays the error again, you need to take action.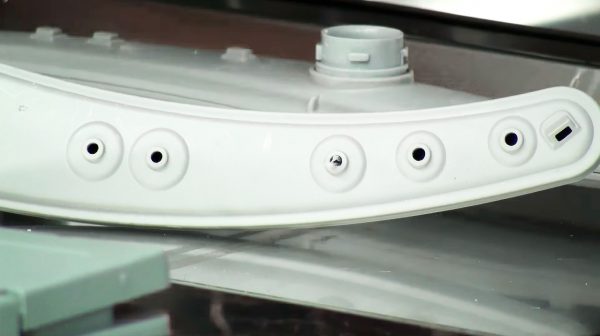 What to do? Try to clean the sprinkler:
Remove the detail.
Rinse under the running water.
Clean the nozzles (holes) using a toothpick.
Use a special salt for dishwashers. It allows you to reduce the hardness of water and prevents the formation of calcareous deposits on the parts.
What to do if the parts are cleaned, but the error code appears again?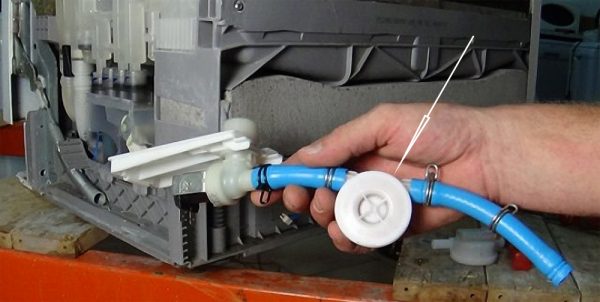 Then replace the flow sensor. It is designed to control the amount of water that enters the nozzles. The element is installed in some Bosch models of instead of the usual pressure switch. The stop signal informs the control module from the sensor. As the result, the appliance is programmed to stop water intake.
We recommend focusing on the mark and model of your dishwasher when choosing a spare part for replacement. It should be noted that all components are original.
To avoid such breakdowns, just take care of the equipment timely. At least once a month, clean the filters and other parts. Use tools to avoid the appearance of scale.