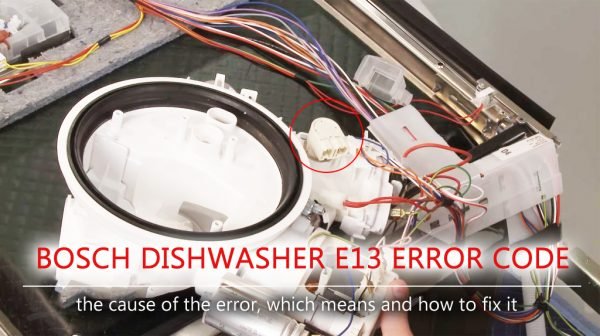 Modern Bosch dishwashers are equipped with many sensors that are responsible for several parameters simultaneously. A water temperature sensor is one of them. If you connect the dishwasher to hot water, rather than cold, the sensor will show you the E13 error on the display.
The fact is, the dishwasher heats the cold water to the temperature of 65oC (sometimes 75oC). If hot water above the specified limit, the sensor blocks the dishwasher and the e13 error appears on the display of the Bosch dishwasher.
Is it possible to connect hot water to the Bosch dishwasher?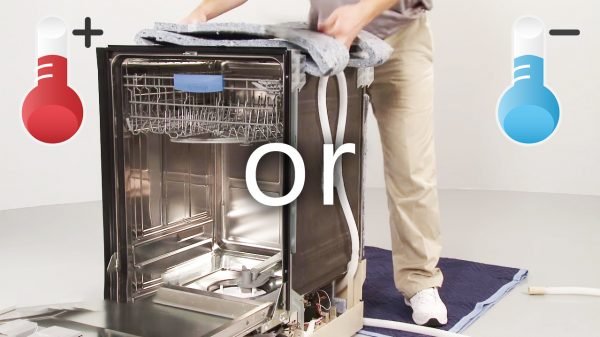 A required condition for the normal operation of the dishwasher is water, heated to the temperature of + 60-65 degrees. The temperature of the water supply system often exceeds these figures, which negatively affects the operation of the kitchen appliance and leads to its premature failure. For one dishwashing procedure, an energy-consuming machine of the A level, consuming cold water, consumes 1.5 kW of electricity. In comparison with breakdowns caused by the use of hot tap water, this is quite inexpensive. Water heating takes place in the flowing water heater in the process of entering it into the machine.
The machine connected to the cold water supply is arranged in a particular way, and it guarantees that water is softened by special salt before washing dishes. It is added to the ion exchange unit. During this procedure, the level of water softness is monitored. Hot water from the system will spoil the "resin" in the exchanger too quickly, which requires new expenses.
Disadvantages of connecting the dishwasher to the hot water
Hot tap water carries a lot of impurities that clog the input filter. So it is important to clean the element of the dishwasher more often.
Hot water is usually hard, which leads to an increased consumption of special detergents.
Many detergents are designed for the gradual heating of water. So when some of the means get the hot environment, many of the supplements that are included in the composition will not fulfill its main function. Of course, in such situation, the quality of washing falls.