The process of washing dishes comes to an end, but the device doesn't drain water. Malfunction of a domestic appliance may relate to a drain pump. Most likely, you will have to replace it.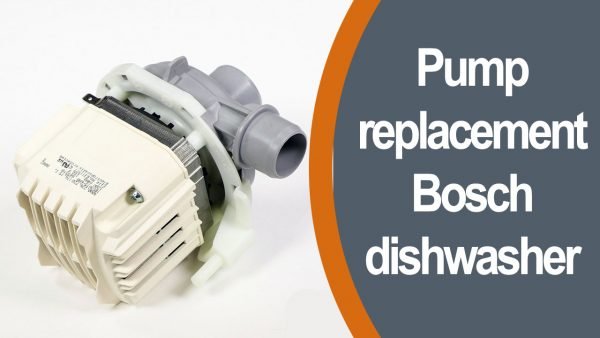 Signs of a defective pump in Bosch dishwasher
The main symptom of a faulty drain pump is water that remains inside the dishwasher. As a result, the device doesn't go into rinsing mode. To determine the cause of a breakdown, inspect the dishwasher for foreign objects in the drain hole. Pay attention to the display of the dishwasher. The appearing E21 code reports the drain pump problem. If there are no faults, pay attention to the remaining water inside the device. The appliance may not drain water at all or do it only partially. But even if you notice water in insignificant amounts, this indicates pump malfunction.
How to replace the pump?
For repair, you need only a suitable screwdriver and a new part for the dishwasher – a drain pump. Repair work begins with the detachment of the top cover of the device. To do this, unscrew all the bolts, located around the perimeter of the cover.
Pump replacing:
Get rid of the side panels from the dishwasher body by removing all the screws. Note that some of them may have restricted access.
You will see the "contents" of a dishwasher. To access the parts you need, detach the bottom panel. There you will find the functional element, called the float.
It is necessary to disassemble the float, removing all the screws. Then, get rid of the cover. Perform all actions very carefully to not to damage the parts.
Now you can see the pump. It is enough to unscrew the part and remove it from the device.
At the last stage, insert and screw a new part. Also, assemble the dishwasher body in the reverse order. Test the appliance for performance.