Water gaining problems are considered to be quite common among Bosch dishwasher users. In most cases, breakdowns are eliminated quickly and easily, but sometimes the serious interventions are required.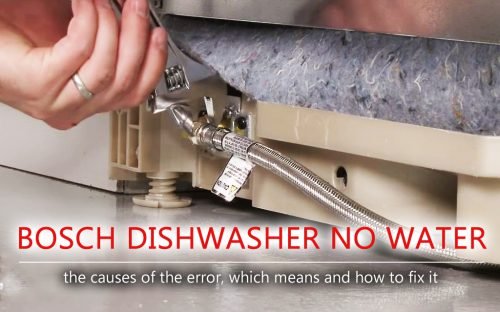 What happens if there is no water in the dishwasher?
If water does not enter the dishwasher, it is not possible to continue the washing process. The water level is measured by a special sensor that transmits the indicators to the electronic control module which sends a signal to run the device. If there is no water, dishwashing process will not be started. The same goes for rinsing.
How to solve the problem?
Problems with water gaining can be related to various details of the dishwasher's construction. To start repair works, you have to prepare tools and spare parts. Everything depends on how serious the breakdown is.
Checking the device's condition and troubleshooting:
Check the plumbing to eliminate any problems with the water supply.
The device door has to be closed tightly. Perhaps, the sealant or lock has been damaged. The details need to be replaced.
Check the water inlet valve for an opening. It is located on the water pipe.
If the filling hose is pressed or bent, correct the defects by placing the structural part in a right way at the appropriate height. If a fault occurs, a new hose is installed.
The water level sensor can fail – the control module does not receive data on the amount of water in the tank and does not give the command to gain it. Replacement is required.
There is a special valve in the dishwasher that is responsible for water entering into the device. It can be burnt out or worn out with time. In case of breakage, a new spare part is required.
If the kitchen appliance is equipped with the Aqua stop system, which prevents water leakage, the problem may be in it – you need to fix or replace the system.
If the control module burns out, its replacement is required (the machine components do not receive a signal about water gaining).